adidas Unisex Adios Pro 3
Support
Neutral
Stability
Motion Control
Cushion
Light
Moderate
High
Maximum
Offset

6.5 mm

Weight

8.1 oz

Product Description:
The Adidas Adios Pro 3 is the ultimate road racing shoe for long-distance athletes looking to take their performance up a notch. The midsole is made up of 2 layers of durable Lightstrike Pro foam for cushion with optimized ENERGYRODS 2.0 embedded inside. This combination is designed to give runners a perfectly calibrated stiffness and energy return come race day. The upper has been revamped providing support where you need it most, and put together with lightweight materials. Underneath, Continental Rubber comprises the outsole to provide superior traction to help you take on turns at a fast pace. 
Features & Benefits: 
Breathable lightweight upper that provides breathability, flexibility, and support in targeted areas 
Responsive LIGHTSRIKE PRO midsole cushioning for endless energy. This foam compound delivers a premium cushioned ride at an ideal weight
The Energy Rods provide maximum propulsion that mimics the metatarsal bones of the foot to help limit energy loss at toe off
Category: Road Racing
Drop: 6.5 mm
Weight: 8.1 oz
SKU: GX9777
ENERGYRODS
Tuned and lightweight stiffness for a more anatomical driven transition.
LIGHTSTRIKE PRO
Revamped construction with two layers of LIGHTSTRIKE PRO foam to provide energy return
CONTINENTAL + TEXTILE RUBBER
Premium outsole crafted to create traction.
Sizing:
Unisex sizing – can be worn by men or women
Women's sizing is 1.5 sizes down from men's sizing
Example: A woman with size 8 would wear this in 6.5
Customer Reviews
Benjamin Lewis Verified Buyer
September 17, 2023
Adidas Adizero Adios Pro 3
I love these shoes! I've recently crushed a 5km & 10km PR in them. They're incredible light, they fit perfectly true to size for me, and they feel durable like they'll hold up for 250+ miles. I've worn them for easy distance runs, 5km time trials, 10km time trials, & threshold/tempo intervals. These do great for all run types, I highly recommend them!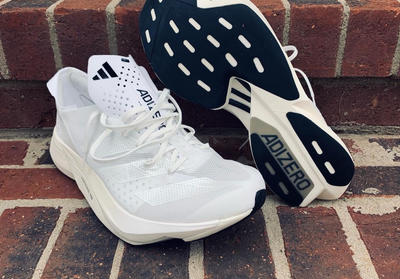 Anonymous Verified Buyer
September 01, 2023
Adidas Adios Pro 3
They are very comfortable and I get several compliments on them every time I wear them. I super love this shoes! Looks very clean!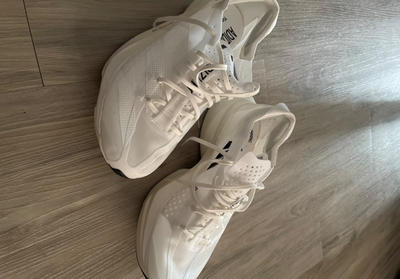 Carly Knight Verified Buyer
August 22, 2023
Lovely running show
Really nice effortless run. Great support. I am size 6.5 and I thought maybe the shoe is a little longer than my usual 6.5 fit.
Thomas Heilman Verified Buyer
June 16, 2023
Didn't work for me but might for others
I use predominantly adidas for all of my athletic footwear and 99% of the time I find them the best for my foot. This a 1% for me. My two biggest gripes are the heal and notch. The heel really rubs on my Achilles and causes blisters. I think it's the rough stitching they chose. I'm not sure why they put it where they did. I personally over supinate when running and the notch in the fire foot tends to be more of where I push off. So ultimately I don't have much tread when rolling into my toes and pushing off. That basically is liking running with foam on pavement and I lose traction. If you are more neutral, it's probably not a problem but it didn't work for me.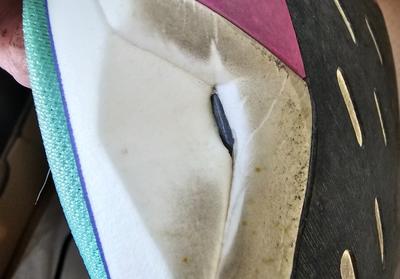 Anonymous Verified Buyer
June 05, 2023
Adidas pro 3
Ok, shoe is very squishy, not much heel or ankle support