Product Description:
Strong, springy support in every step. The Powerstep® Pinnacle Insoles give you the consistent cushioning you want and the stable arch support you need. Not only do they feel good, they're good for you, as they help to strengthen and align your spine in perfect position.
Features & Benefits:
Medical grade foot supports calibrated with flexibility for comfort
Hypercel EVA casing: Heel to toe long lasting cushioning
Heel cradle and platform: Safeguard heel during landing
Anti-microbial ETC fabric top cover: Dryness, heat, and slip reducing
SKU: 5001-01
Customer Reviews
Anonymous Verified Buyer
February 23, 2022
Powesteo
They fit great inside my sneakers!
Anonymous Verified Buyer
January 31, 2022
Insets
Fast shipping, good quality
Katie Collins Verified Buyer
September 28, 2021
Powerstep Pinnacles
They're fantastic. They alleviate pain that I have in my foot due to bunion bursitis and even beyond that, they're incredibly comfortable and add so much extra support to my sneakers, hiking boots, and even some of my regular closed-toe walking shoes.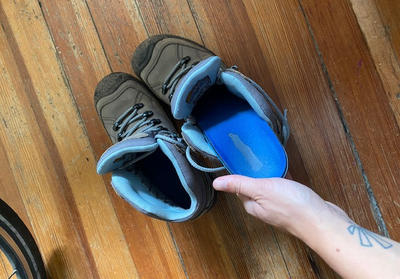 Loretta A Dunne Verified Buyer
July 08, 2021
powerstep pinnacle original
Great I lover power steps. They were recommended to me by a physical therapist several years ago. I love them.
Celeste Johnson Verified Buyer
November 24, 2020
Love Powersteps
I have been using Powerstep inserts for years. Early on in my running I had felt slight knee pain and someone in the store suggested the inserts as opposed to purchasing a new pair of sneakers since mine were still pretty new. The arch and support keep the knee pain away.
Katie Collins Verified Buyer
September 30, 2020
These insoles are life changing!
LOVE these insoles. Ordered one pair, broke them in, and promptly ordered two more so that I can have a pair in all of my shoes. Such great support for my higher arch and has helped a lot with realigning foot so that I'm feeling less pain.