Product Description:
The first carbon neutral shoe from Brooks, using recycled materials and carbon offsets to balance the scales. Smoother and softer, this runner favorite just keeps getting better. The Brooks Ghost 14 sports a 100% DNA LOFT cushioning midsole that brings a soft and smooth ride. This soft midsole and the Segmented Crash Pad team up for easier flow from landing to toe-off for seamless transitions. Topped off with an incredible fitting upper, which is 59% recycled content. The 3D Fit Print balances stretch and structure so the shoe adjusts comfortably to your foot allowing for a lockdown fit throughout the running phase.
Features & Benefits:
Carbon neutral from utilizing recycled materials and carbon offsets
A 100% DNA LOFT midsole for soft and smooth transitions
The new midsole construction creates seamless transitions from landing to take-off
More strategic use of 3D Fit Print technology provides structure that moves with the foot
3D Fit Print in the heel and saddle offers a secure fit
Category: Neutral
Offset: 12 mm
Weight: 9.9 oz
Customer Reviews
John Whalen Verified Buyer
October 02, 2023
Excellent shoe and great online retailer
I just purchased 2 additional pairs of the Ghost 14's because they are so good! I've been wearing a pair for almost a year now and I love them. Great shoe at an awesome price right now. I also got the Brooks Ghost 14 GTX that are waterproof. Marathon Sports ships fast and are very accommodating. They respond to questions very quickly via email. Thank you!
Raynelle Howlett Verified Buyer
September 27, 2023
Great shoes
These fit well and are perfect!
Anonymous Verified Buyer
September 25, 2023
brooks ghost 14
size true to size feel good should last a while
rory lavery Verified Buyer
September 14, 2023
Brooks Ghosts
Excellent.. very comfortable running shoe.. quick delivery. No issues.
Anonymous Verified Buyer
September 06, 2023
Jarrod Chin Verified Buyer
September 03, 2023
Below Avg. Runner: Great Sneaker
I have bought these sneakers twice now. If you are a below average runner, like myself. These are fantastic for my 4-6 mile runs 2-3 times a week.
Stephen Arnold Verified Buyer
September 01, 2023
Brooks Men's Ghost 14
Excellent! My Brooks' arch support is perfect, so I wear them without the orthotics I use with my other shoes. The shoelaces would tighten more easily if the holes were lined; but you'd have to raise the price.
Anonymous Verified Buyer
August 05, 2023
Brooks ghost 14
Brooks are very comfortable and support my feet well. The ghost 14 is just as good as the prior years versions. I strongly recommend Brooks as a brand.
Anonymous Verified Buyer
July 29, 2023
Anonymous Verified Buyer
July 28, 2023
Solid performer
I use the G14 as one of my pairs of work shoes. I spend 6-7 hrs a shift on concrete floors, alternately standing at my post for long periods and on the move delivering on service requests. The cushion and bounce are superior. The one design issue I see is that the shoe needs a roomier toe box. All in all, it's been a good partnership.
Dianne Autenzio Verified Buyer
May 08, 2023
Walking
Very comfortable Light on feet Good support
Michael Schwarz Verified Buyer
April 28, 2023
Nothing Spooky about these Ghosts
I freaking love these shoes. Not only do they look cool as all get out but they are so comfortable. Wearing these shoes is like being swaddled in a warm blanket on chilly rainy day. These ghosts are light and springy under foot and give back a ton of energy. The fit is true and so far the performance has been great. Might just have to get another pair.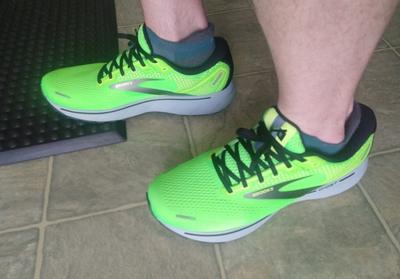 Anonymous Verified Buyer
February 16, 2023
Great shoes and service!
These shoes are incredibly comfortable. I initially received a wrong pair and was sent the correct ones (plus a pair of socks) very quickly. Great service. Thanks!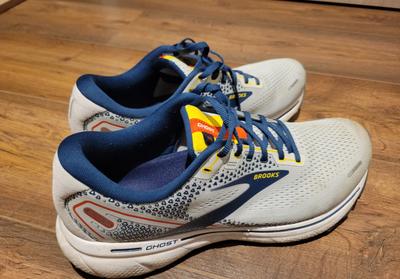 John White Verified Buyer
November 18, 2022
My Favorite shoe
I use orthotics and started using Brooks because the insole can be removed but they quickly became my favorites with an insert or not. These fit so well I do not have to tie them. I've not bought another brand for almost 10 years now.
George Fazio Verified Buyer
March 22, 2022