Product Description: 
Excellent for running, walking, grocery shopping, and wearing throughout your everyday activities.
These masks are engineered to be antimicrobial, odor-free, moisture-wicking, quick drying, and ultra comfortable to help you "flatten the curve" with ease. 
Features & Benefits:
70% Polyamide / 23% Polypropylene / 5% Elastane / 2% Silver

Ideal care is machine wash warm, air dry.

Wash after each use along with the clothes you wore outside, and avoid touching the outside of mask after use.

These masks are NOT medical grade and will not prevent infection. For best results follow all CDC guidelines, including social distancing and hand washing. 

Made in Italy
**Final Sale. Please note: For hygienic reasons, this set is final sale and cannot be returned or exchanged.
Customer Reviews
Louise Clough Verified Buyer
February 03, 2021
A great face mask
It fits very well, although I need to have a hat on to keep it from sliding down over my hair. I wear it walking and hiking - leave it on for an hour or more even if there are very few people around. Good on a cold day because it keeps my face warm! It does get wet from breathing, but I just wash it when I get home. I plan to buy at least one more.
Boudewijn DeJonge Verified Buyer
December 11, 2020
Not a good fit
Not great. Doesn't fit well on my face and not easy to breath through while running
Bridget Schmidt Verified Buyer
September 22, 2020
Great sports mask
I use this mask for hot yoga classes. It stays secure on my face with the straps that go behind your head. It is easy to breathe through and a good material to wear while sweating. Great find!
Thomas Shores Verified Buyer
September 08, 2020
Great Fitting mask
I love the way the mask fits over the head
Patrice Norton Verified Buyer
September 07, 2020
Great mask
Mask is great exercising washes well, has retained its shape and fit after numerous washes
Patrick Bazinet Verified Buyer
August 25, 2020
Very difficult to breath, once wet
I like the fit and finish of the mask. But, it get very wet after running for a few miles and then is essentially saturated with water. At that point, it becomes very difficult to breath. The wet fabric gets pulled in while inhaling. It might be fine for walking or other non-exercise related activities.
Alexander CLAWSON JR Verified Buyer
August 17, 2020
Mask
It was smaller than I expected. I gave a big head and it is uncomfortable
Stephanie Akin Verified Buyer
August 15, 2020
Weird fit
The fabric seems nice but, ugh! The fit! I was hoping to find something that I could wear around my neck and pull up when I pass people on runs, after the studies came out saying gaitors are ineffective. Sadly, this isn't it. The part that is supposed to fit over your nose hits me right in my eyes and there is no way to adjust this for a comfortable fit. I'm a pretty average sized woman which makes me think these were clearly made for men's faces.
Victoria Crawford Verified Buyer
August 08, 2020
Comfortable to go running in...great customer service!
Went running w/ it and it was fine except there were a few threads sticking out I was breathing in but I just trimmed them off. Other than that, if it does protect more w/ the silver weaved in the fabric, great!
Finally can run and breathe
This mask is worlds beyond the others I've tried for running. The material is soft and so breathable. The straps make it easy to pull up and down, and it wicks sweat well. I find the fit good and I have an average head. : )
Shirley Tjiong Verified Buyer
July 29, 2020
Breathable
It worked well for me, it's nice that I don't like eat it when I take deep breathes. I use it when I teach for my fitness class, it moves a little bit only cause I talk a lot :) and it doesn't get drenched. The previous masks I used, I'll have to swap masks for a dry one. But it fits pretty good, going to consider buying another one.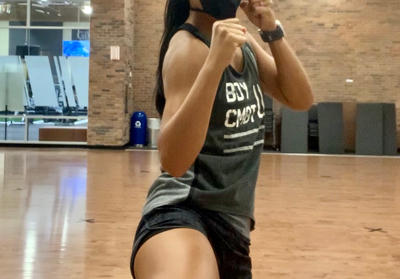 Michelle Armoni Verified Buyer
July 27, 2020
Not for us
Didn't fit any of our family's faces. Gave them away.
Kelly Sessler Verified Buyer
July 27, 2020
Don't buy
Shipping was quick and material is soft against the skin. But the mask is large, oddly shaped, and doesn't fit my face. There is a lot of extra material which you pretty much inhale while trying to breathe in it.
James Taylor Verified Buyer
July 23, 2020
Breathable
Great mask..comfortable and breathable.
Paul Esteso Verified Buyer
July 22, 2020
Good concept, short on the execution
Comfortable wearing the mask while starting the run. No problem pulling it up while passing people. Not too hot to wear. Unfortunately is you start sweating the mask becomes easily saturated and it is impossible to breath through. Hard to even take 1 breath as I pass someone while running on a trail. Can't keep it up any longer.
Robert O'Sullivan Verified Buyer
July 21, 2020
Great mask for exercising and easy to breathe through, which may not be the best in some situations?
I have used it for indoor rock climbing and found it the easiest to wear for a few hours of exercise compared to other masks. It fits well and stops air entering and exiting the sides which is a downside of simple cloth masks. It is also pretty easy to breathe through which is good in some respects, but it certainly will not be filtering out as much stuff as the triple layer cloth masks that are recommended. If you are concerned I would wear a better filtering mask to a store or area with poor air circulation, but for how I use it (i.e. in a large indoor space with minimal people or crowding and reasonable ventilation) it is great. It is a bit sweatier that some cloth masks, but I don't think that can really be avoided...
Jan Tamura Verified Buyer
July 21, 2020
Jermaine Brantley Verified Buyer
July 21, 2020
Very comfortable, but...
the mask is much more comfortable compared to surgical masks and 2. layer cloth masks, but I don't think the material will protect against contracting or transmitting a virus, etc.
Lee Grist Verified Buyer
July 21, 2020
Great mask
I bought 2 of these and wear them for work....comfortable and some what sporty, as sporty as a mask can be! 😂
LAWRENCE ROSTRATA Verified Buyer
July 20, 2020
Terrific
Good fit, nothing on my ears and easy to clean.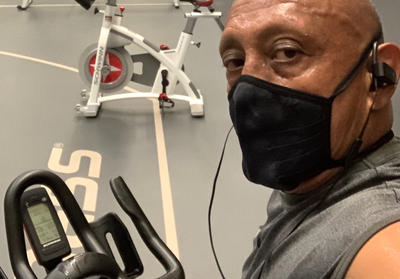 Exa Mendez Verified Buyer
July 20, 2020
Great face mask. Suits well!
Love it, fitting is great.
Denise M MORTENSON Verified Buyer
July 15, 2020
Too small
The mask was for an adult male about 6 feet 2 inches tall. They barely fit over his ears and the mask itself doesn't really cover his face. A lot of money for a poor product.
Great for everyday use
I Wear the mask everyday for work. Very comfortable wearing for up to 5 hours at a time and is protective yet light weight and breathable. Incredibly easy to wash. Highly recommend for exercising as well as every day use.
Stacey Myers Verified Buyer
July 08, 2020
Very uncomfortable
Very poor experience. The masks are well crafted but a very bad design. The are too close to the eyes, so they inhibit your vision. They do not have a metal insert to bend over the nose so they are horribly uncomfortable. They are very poor and completely useless. I bought these for use when running and can't use them at all. I am discarding them.
Peyton Fulbright Verified Buyer
July 06, 2020
Poor fit
The material seems very breathable, but it does not stay in place. It either slide up over my chin or down over my nose within seconds of wearing. My face is on the smaller side, so I could not recommend it unless your face is very small.
Andrew Southam Verified Buyer
July 02, 2020
Zensah Face Mask
The item arrived promptly and is a great help to me when exercising.
Cassidy Murray Verified Buyer
June 29, 2020
My go-to mask!
It's the most comfortable and best-fitting mask I've purchased. I've since ordered several more.
Christophe Dupupet Verified Buyer
June 17, 2020
Great buy
my Buff was getting uncomfortable with the warmer temperatures and I was looking for an alternative. This really does the job. I like the horizontal elastics: easier to put up and down if you are alternating between deserted areas and busy ones. All things being equal, I'd prefer running without a mask, but this is as good as it gets...
Megan Parisi Verified Buyer
June 17, 2020
Good function, but not comfortable at all.
The mask was fairly breathable during my run but I found it to be very uncomforable, and left a long lasting imprint on my face.
Jared Olson Verified Buyer
June 17, 2020
Great fit, breathing still restricted
The fit is nice and I like the straps that go around the head and neck. I can easily keep it around my chin and pull it up when encountering other trail runners. I was hoping that it would be easy enough to breathe through that I could keep it up the whole time but I found it too restrictive. It's better than some homemade ones I have though.
Colleen O'Neill Verified Buyer
June 15, 2020
great mask
great mask for warm weather and activities like walking and running
NJ Jogger Verified Buyer
June 08, 2020
Really helps
This is the best mask I have found that allows me to run and walk without struggling to breathe.
Michael Baxter Verified Buyer
June 08, 2020
Ok for being outside but not aerobic activity.
I was expecting more of this mask since it was advertised as a running mask. I have found that for general use it works fine, however with any intense activity it does not work well. I am a runner and the mask tends to occlude nasal breathing if it is damp from any moisture. I do like how it attaches with two straps which I use to remove while running & not near other people to allow for better breathing. I have used it during close gatherings/protests and it functions well in those settings thus far.
Colin Verified Buyer
June 07, 2020
Not usable
Reading these other glowing reviews makes me think that I received a defective item. The one I purchased from Marathon Sports has an off-gas issue, an overpowering chemical smell that will not go away, even after multiple washes. And while this mask did indeed have a great snug fit that ensured that it stayed on during lengthy runs, this ended up compounding the off-gas problem. After a couple minutes of regular paced running I had trouble breathing using this mask - it was like trying to breathe through a plastic bag. I was forced to remove the mask for a stretch of time to normalize my breathing. Once I felt better, I'd slide the mask back up only to find myself going through the exact same thing again a couple minutes later. This thing is simply not breathable, which means that it's unfortunately completely unusable and a waste of money.
Good Running Face Mask (Staff Review)
Over the past few months, I have tried running in numerous face masks and have found that the Zensah face mask to be one of the best. The form-fitting shape of the Zensah Face Mask is extremely comfortable and helps to prevent the mask from falling down while running. In terms of durability, this mask has held up the best, in comparison to others. Even after a few washes, the mask feels and looks as good as the first time I put it on.
Comfortable fit (Staff Review)
The Zensah mask is exactly what I was looking for when it comes to a running mask. I tried a few other options and they all felt sloppy and never stayed on my face. The Zensah Mask, however, is the perfect fit covering both my nose and mouth without bouncing or budging. The elastic straps have held its elasticity given the fit I have been looking for. Although, the mask is breathable the performance of the covering can be affected when breathing gets heavy. This is an issue that I have had with every other mask I have tried and find the Zensah option to be one of the best. This is a recommend in my book.