adidas Unisex Adizero Adios Pro 2
Support
Neutral
Stability
Motion Control
Cushion
Light
Moderate
High
Maximum
Offset

7.5 mm

Weight

5.5 oz

Product Description:
The Adidas Adizero Adios Pro 2 is part of the FAST range and it is ready to take you to the podium. This shoe is made to help achieve what was previously viewed as impossible when it comes to racing. With a resilient LIGHTSTRIKE PRO midsole, the legs will feel fresher and you will feel less fatigue as you train and race. The Heel Plate and the EnergyBlades combine to create smooth transitions along with reducing fatigue on the ankle. With better energy return and more midsole foam than the competition, the Adidas Adizero Adios Pro 2 will have you chasing down your personal bests.
Features & Benefits: 
Breathable lightweight upper that provides breathability, flexibility, and support in targeted areas 
Responsive LIGHTSRIKE PRO midsole cushioning for endless energy. This foam compound delivers a premium cushioned ride at an ideal weight
The Energy Rods provide maximum propulsion that mimics the metatarsal bones of the foot to help limit energy loss at toe off
Category: Road Racing
Drop: 7.5 mm
Weight: 7.5 oz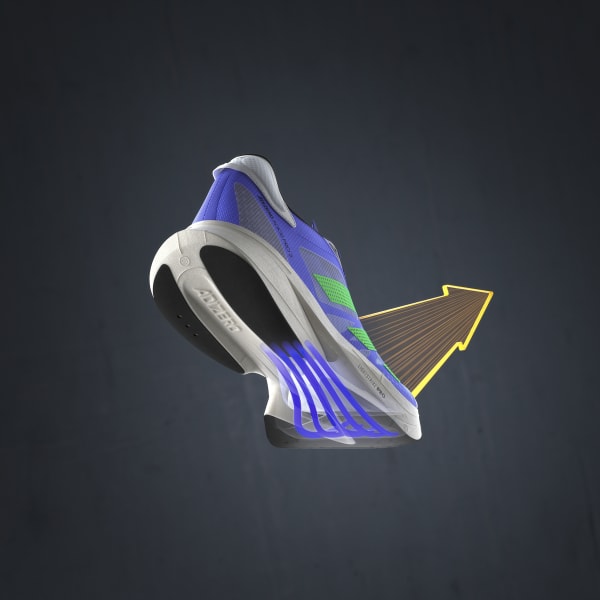 ENERGYRODS
Tuned and lightweight stiffness for a more anatomical driven transition.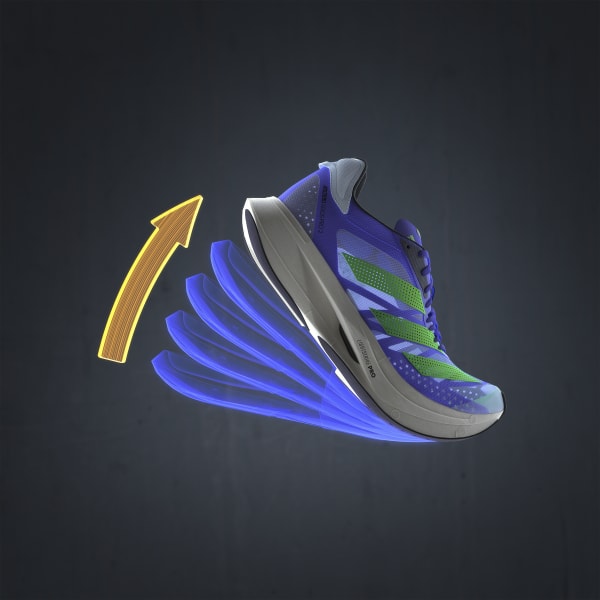 LIGHTSTRIKE PRO
Revamped construction with two layers of LIGHTSTRIKE PRO foam to provide energy return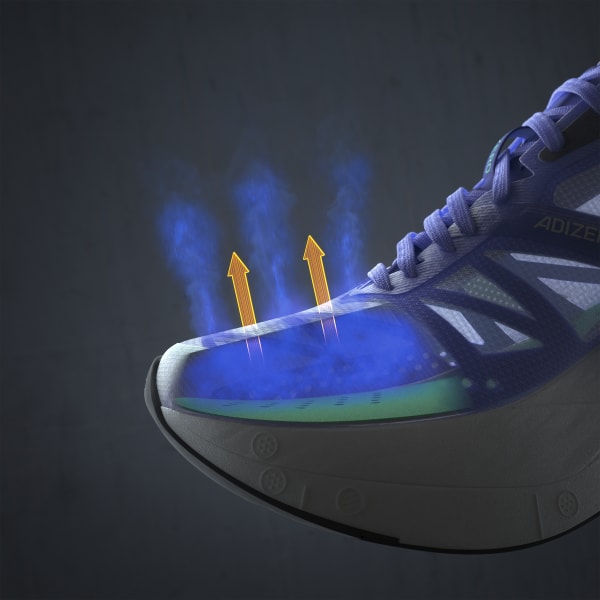 CELERMESH 2.0
Ultra-lightweight partially recycled polyester upper created for speed with flexibility, breathability, and targeted support based on data from real runners.
Sizing:
Unisex sizing – can be worn by men or women
Women's sizing is 1.5 size down from men's sizing
Example: A woman with size 8 would wear this in 6.5
SKU: 

GX3124
Customer Reviews
Ryan McCalmon Verified Buyer
September 01, 2023
I just keep buying them
I have bought at least 4 pairs of these. Marathon Sports has them on my doorstep in a matter of days. Thanks for that new shoe feeling!
Anonymous Verified Buyer
March 31, 2023
Fast!
Fast shoe! Great for long miles, a bit unstable if your not on your toes, definitely got to keep up on em!
Michael Schwartz Verified Buyer
November 11, 2022
great shoe, horrible outsole
I find the fit and energy return of this shoe to be excellent. It is neither too firm nor too mushy like a number of other carbon based shoes. They work best for tempo runs, but not so well for faster interval work. The rubber outsole on the heel began to detach after one run. I glued it back on and am willing to tolerate it as the shoe works so well
Margo Kasting Verified Buyer
October 01, 2022
Favorite shoe
Love this shoe. It's light and fast, good energy return. A little unstable in the heel but I got used to that. Better stability at faster paces. It's my new half and full marathon shoe.
Anonymous Verified Buyer
August 29, 2022
Anonymous Verified Buyer
July 21, 2022
Amazing
Great shoes, very light and fits perfect.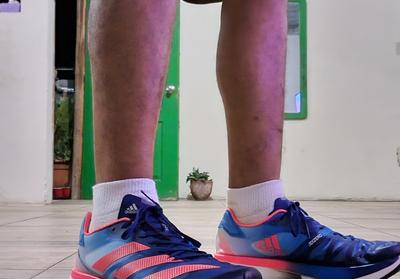 james tierney Verified Buyer
June 03, 2022
Adidas Adios Pro
Good for faster passes,not used for Marathon Distance.Very Comfortable.