Product Description:
Runs like a dream
The all-new Saucony Triumph 20 is a high cushion running shoe that will help soften the impact of those long miles. Made with maximum comfort and softness in mind, the Triumph utilizes PWRRUN+ foam underfoot to give more cushion with less weight. Feel snug in your shoe thanks to the fit details Saucony has focused on to provide the perfect fit without the pressure points. Finally, these shoes are made to last with a durable outsole rubber that will give you traction when you're out on the roads.
Features & Benefits:
New PWRRUN+ foam is softer and lighter than ever before
Updated geometry gives you more cushion and a smooth, rocker feel
With a lighter footprint, this model contains recycled materials
Fit details lock you into the perfect feel without pressure points
Durable outsole rubber
Category: Neutral
Offset: 10 mm 

(37mm heel/27mm forefoot)

Weight: 8.8 oz
Customer Reviews
Anonymous Verified Buyer
October 23, 2023
Review
I bought them for my wife and she loves them!
IAN KUHLENTHAL Verified Buyer
October 22, 2023
Saucony Women's Triumph 20
Excellent, this shoes are just what I was looking for. I would definitely recommend to go and try them at the store to be sure of your size.
Irene LIONETTA Verified Buyer
September 27, 2023
My new favorite training shoe
This shoe handles the miles 40+ per week so incredibly well! Comfortable, responsive and lightweight!
Anonymous Verified Buyer
September 18, 2023
Triumph 20
I love this shoe! My daughter wears them and recommended it so I purchased. It is a very comfortable and stable shoe and I'm so happy I followed through on her advice.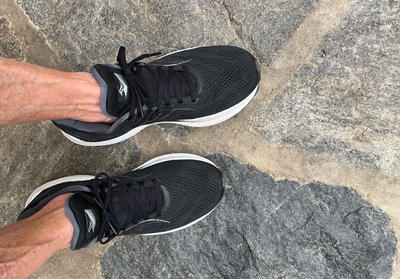 Anonymous Verified Buyer
September 11, 2023
Great alternative to Hoka
I love these shoes! I average 40+ miles a week and have nothing but good things to say about these shoes. Fit comfort, stability all there! Also roomier in the toe box!
Anonymous Verified Buyer
August 15, 2023
Great alternative to Hoka
So far, these Saucony Triumphs have been great marathon training shoe! They're cushioned and comfortable, with plenty of room in the the toe box.
Emily B.
November 09, 2022
Super light and bouncy!! (Staff review)
I wasn't expecting to like running in this shoe, but I did. The high cushion feel isn't cumbersome at all, and I usually like moderate/low profile shoes with firm cushioning. I felt like this shoe has the perfect mix of bounce and responsiveness, and as a bonus it's super fun to run in!!
Anonymous Verified Buyer
October 24, 2022
Saucony sneakers new Triumph
Good, I always wear Saucony & was excited to try the new Saucony Triumph. They feel good. Have not run a lot of miles in them yet