Product Description:
The ultra-cushioned game-changer. One of the hardest-working shoes in the HOKA lineup, the Bondi takes a bold step forward this season. The midsole has been reworked this time around with softer, lighter foams and a brand-new extended heel geometry. Taking on a billowed effect, the rear crash pad affords an incredibly soft and balanced ride from heel strike to forefoot transaction.
Features and Benefits:
Engineered mesh construction
Recycled content lining mesh
Ortholite® hybrid sockliner
Lightweight, resilient foam
Zonal rubber placement for weight savings
The American Podiatric Medical Association (APMA) Seal of Acceptance
Drop: 4mm
Weight: 8.9 oz
Customer Reviews
Mary Jane Mills Verified Buyer
September 22, 2023
I Can Walk Again Thanks to Hoka
I have weakened ankles, tightened Achilles Tendons and other tears. I do use Custom Fitted Inserts. I wore Hokas in the past and for some reason changed to another well known brand but those two years I had nothing but constant issues. Made my way back to Hoka with my inserts and I am ready to go full speed ahead.
Anonymous Verified Buyer
September 11, 2023
Thank you!
Excellent service as always. Thank you.
Divya Koster Verified Buyer
August 13, 2023
Can't walk without them
Saw the podiatrist for my excruciating foot pain. He said as soon as I wake up, do gentle stretches and them immediately put on socks and your Hoka's. I have been wearing them to work, at home, while gardening, basically all the time.
TRAVELE BETTER TOGETHER PREP Verified Buyer
August 08, 2023
HOKA Women's Bondi 8
Love my purchase! Highly recommended.
TRAVELE BETTER TOGETHER PREP Verified Buyer
August 08, 2023
HOKA Women's Bondi 8
Great pair! I love them. Will buy again!
Anonymous Verified Buyer
August 02, 2023
Bondi 8
I had bondi 7s and was disappointed when I found out they were no longer being made. But now that I have the 8s I really like them and bought myself a second pair!
Anonymous Verified Buyer
July 30, 2023
The BEST Shoe
I've been an avid runner for years, usually sporting the Clifton's. However, after 2 major leg surgeries over the past 20 months, I've found myself unable to run and needing more support. THIS is the shoe!! It's a little clunky looking, but a great fit, and extremely comfortable. It's cushioned, but not overly plush, and find it provides support not only to my leg, but joints and lower back too. I wear them daily, and ordered a second pair! They do run about 1/2 smaller than my usual size, but every shoe is different and I've found that's the norm with Hoka. I can't speak on it for running since I'm limited there, but great every day shoe, walking the dogs, etc. Glad I purchased!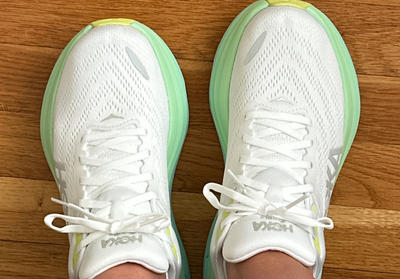 Anonymous Verified Buyer
July 25, 2023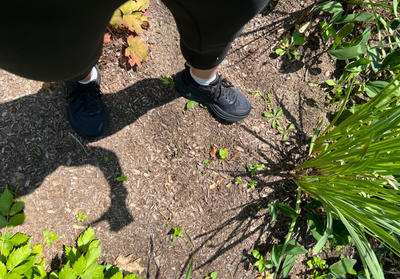 Anonymous Verified Buyer
June 30, 2023
Hoka Bondi 8
These are not the same shoe- they are made out of different material and it does not support the foot as the other older one.
Joseph Matson Verified Buyer
June 02, 2023
So comfortable!
These are the most comfortable sneakers I have ever worn.
Millie Thayer Verified Buyer
May 15, 2023
Hoka Bondis
I love these shoes! They have amazing cushioning and have been wonderful for walking on the road, using at my standing desk, and many other things. I highly recommend them!
Dorothy Boyle Verified Buyer
February 14, 2023
Excellent product
These sneakers are fabulous. I bought My daughter these as a surprise and she hasn't taken them off.