Train Smarter, Train Brilliantly
Stay in tune with your training with the new Garmin Forerunner 265 and 265S, a personalized running smartwatch that raises the bar even higher. The Forerunner 265 series has introduced a colorful AMOLED touch screen display so you catch every insight and never miss a split. Know where your training stands every day with your morning report, showing you your recovery and training outlook for the day. With over 13 hours of battery life in smartwatch mode, you never have to worry about what comes next, just run, recover, and repeat. Get personalized and adapted training plans from experts based on your day to day training and health metrics.
Feature and Benefits:
Plan:

Garmin Coach: Free adaptive 5k, 10k, and half marathon training advice from expert coaches
Recovery Time: Know how long to recover after a high-effort workout
Courses: Find existing routes or create them in the Garmin Connect App
Sleep Monitoring: Understand how your body is recovering with your personlized sleep score
Body Battery™ Energy Monitoring: Track your bodys activity levels to find the best time for workouts or activities
Race Predictor: Get estimated completion times for various races
Women's Health Monitoring: Track and log mestrual cycle or pregnancy along with exercise and nutrition advice
Prepare:
Wrist-based Running Dynamics: Measures crucial running metrics such as cadence, stride length, ground contact time, and more
Wrist-based Heart Rate: Tracked throughout your workouts and recovery
Acute Load: Compare your recent training load to the optimal range to improve your fitness
Training Effect: See how your workouts affect your endurance, speed, and power
Performance Condition: While you run, get a real-time assessment of pace and heart rate
VO2 Max: See your current fitness level and see how it changes over time
Intensity Minutes: Track your moderate and vigorous activity minutes
Health Snapshot: Record key health stats to generate a report to share with your healthcare providor
Stress Tracking: Stay on top of when you're having a calm, balanced, or stressful day
Pulse Ox: Track your blood oxygen saturation while awake or asleep
Audio Prompts: Get alerts to know how you're performing during workouts
Cross Training: Comes preloaded with free HIIT, strength, cardio, yoga and Pilates workouts 
Perform:
Wrist-based Running Power: See how much power you're applying to the trail or road to effectively manage your training load
SATIQ™ Technology and Multi-Band GPS: Get superior position tracking for optimized battery life
PacePro Feature: Plan race-day strategy with GPS guidance for selected course or distance
Built-In Sports Apps: 30+ built-in activities, including cycling, open-water swimming, strength training and more.
Track Running:  Allows for accurate lap measuring and displays distance in meters
Triathlon and Multi-Sport Profiles: Switch between sports with the press of a button or personalize profiles for your unique needs
Connect:
Music Storage: Download music from Spotify, Deezer, or Amazon Music
Safety and Tracking: If you feel unsafe or your watch detects an accident a message can be sent with your live location
GarminPay™: For easy, contactless payment
Smart Notifications: See email, text, and other alerts when paired with your phone
LiveTrack: Friends and family can see your real-time location when enabled
Garmin Connect App: See your health and fitness information, connect with friends and more
Connect IQ Store: Add watch faces, data fields and apps to your watch
SKU: 010-02810-03/010-02810-01/010-02810-05
Customer Reviews
Nicolas Cofino Verified Buyer
August 30, 2023
Perfect fit, perfect garmin!
Its the perfect garmin for all sports. I use it to walk and run. It mesures my sleep, my heart rate, my steps, trainin status, pulse, stress level and more! I love the size which i can use even to sleep. I recommend it to everybody who is looking for the best garmin!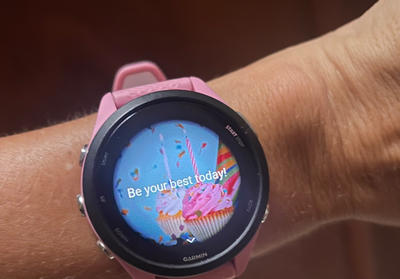 Verified Buyer
June 22, 2023
Bought Forerunner 265
Murphy's law caught up with me on Boston marathon week as my old 735 tx quit on me. I panicked. Started looking for something for the race. Luckily I found this beautify store, and, as sent from God, was able to purchase the new Forerunner 265 for an amazing marathon price. Used it for the first time on my first Boston Marathon. Thanks so much for the help and the recommendation by the Garmin and store's staff as it was crowded and wild.