Product Description:
When putting your foot down has become the most painful part of your day, you need the instant soothing sensation of the Foot Rubz™ Massage Ball. Simply roll this under your feet to provide immediate relaxation of stressed-out tendons. Works great on hands and shoulders too, with relief that lasts for hours.
Features and Benefits:
160 nubs provide soothing stimulation that will immediately begin to relax and eliminate tension: Makes feet, hands, and any sore or tired muscles feel great in minutes
You control the depth of the massage with applied pressure to ensure the utmost relief of muscle soreness
Great aid in the treatment of Plantar Fasciitis
Customer Reviews
Anonymous Verified Buyer
June 26, 2023
Awesome!
Sore runners feet? Yes. This is the absolute best!
Anonymous Verified Buyer
May 02, 2023
Rubz the plantar fasciitis right out
Great little rubber ball to massage your feet. I have plantar fasciitis and it helps relieve my achy feet at the end of the day. I would say this is one of the better balls because the spikes are hard and really dig into the knots and tissue of the foot. Get it y'all, you will not regret it.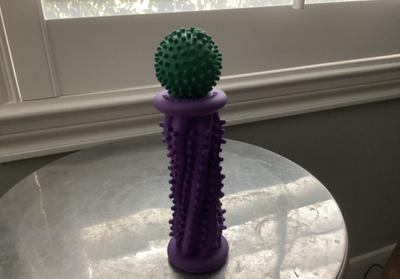 Anonymous Verified Buyer
April 12, 2022
Love it
I use at while sitting at my desk.
Dale Niemi Verified Buyer
November 18, 2021
Foot Rubz
It seems tiny and silly, but it does a really good job at relaxing sore muscles and releasing tension. If you're a runner, or just someone with tight muscles, give it a try.
Katherine Gibson Verified Buyer
May 14, 2020
Great little foot massager
This helps with sore feet after a long day!