Product Description:
Designed by Dr. Ray McClanahan, DPM, Correct Toes help the foot rehabilitate from the negative effects from conventionally shaped footwear. Made from soft, flexible silicone, Correct Toes encourage toes back into their natural alignment. With progressive and cumulative use while active and weight bearing, toes align and feet strengthen, restoring the foot's original position and function.

Features & Benefits: 
Created from high-quality silicone

Anatomically shaped toe spacer, designed to return toes back into natural position.

Correct Toes are most effective when used while active, either barefoot, or within naturally shaped footwear.
Customer Reviews
Anonymous Verified Buyer
May 09, 2023
The stretch feels so good
I have worn CorrectToes since my podiatrist recommended them a few years ago. Every morning while I'm puttering around the house and having breakfast. No more problems with metatarsalgia and my bunions seem minimal.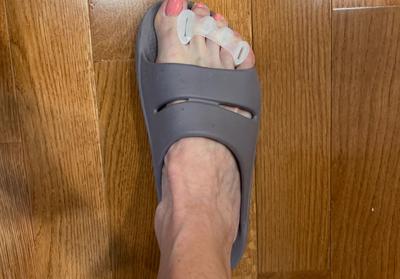 Anonymous Verified Buyer
May 30, 2022
correct toes not good on short toes!
my toes are short.........the gizmo won't stay on..........they keep riding forward and off my toes