Product Description:
Delivering the best cushion-to-weight ratio on the market, the Rincon returns this season in a stupefyingly light silhouette. Designed to defy expectations—and PRs—this aggressive redesign features an asymmetrical tongue, thinner pull tab, and a vented-mesh upper for ultimate breathability. Melding a multitude of precision details, our impossibly light midsole foam sports aggressive cutouts and enhanced rubber coverage for improved durability. A results-oriented running shoe hyper-focused on weight savings, the newly reimagined HOKA Rincon 3 blows previous iterations out of the water.
Features & Benefits:
100% vegan materials
Mesh upper delivers ultralight, breathable comfort
Asymmetrical tongue construction for enhanced fit
Molded EVA sock liner
Compression-molded EVA midsole provides signature HOKA cushioning
Early-stage Meta-Rocker allows for quick acceleration
Zonal rubber placement for weight savings
Category: Neutral
Drop: 5mm
Weight: 6.20 oz
SKU: 1119396-SCPP
Customer Reviews
Mary colliet Verified Buyer
October 12, 2023
Hoka
I was very happy with the sneakers. I feel like I'm walking on air
Anonymous Verified Buyer
October 02, 2023
Great shoes!
Super comfy but perhaps run about half a size bigger than On and Nike.
Kelly Henasey Verified Buyer
July 10, 2023
Love my HOKAs!
Great! I am a nurse and love my Hokas for 12 hr shifts. Keeps my feet and back happy!
Angela Norberg
March 24, 2023
Rincon 3
This was my 3rd pair of Rincon shoes, and I am sad to say I am disappointed when compared to the previous models. The shoe itself is fine, but in this model, the tongue was changed. It is shorter and thinner, and no cushioning. When I run, the tongue slips down further, chafing the top of my foot until raw. I am so bummed, because I LOVED the Rincon 1 and 2. Unfortunately, I will not be buying this model anymore unless the tongue is changed.
Anonymous Verified Buyer
November 01, 2022
Best running shoes
I highly recommend these shoes. I've had these for a month now. They are lightweight, comfortable, and in a bright happy orange color. One note is that these shoes run long. I ordered a half size smaller than my usual shoe size.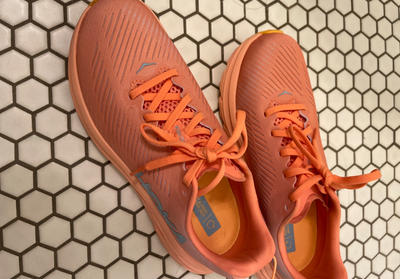 Anonymous Verified Buyer
July 27, 2022
Hoka Rincon 3 Phlox Pink/Atlantis
Love the Hoka brand and the Rincon series of running sneakers never disappoints!
Anonymous Verified Buyer
May 28, 2022
Happy Feet
I'm on my feet 12 hours for work and when I tell you my feet/legs aren't as tired since wearing these shoes. Enough support and cushion to have you feeling like you are on cloud 9. Just ordered second pair
Christina Stephens Verified Buyer
May 15, 2022
Love this shoe!
The support & fit for your arch is what I found impressive. I had an arch strain & voila! I did not feel it once I walked in this shoe? Amazing! Of course the color & contrasting colors were my favorite…
Anonymous Verified Buyer
February 20, 2022
Perfect shoe for being on your feet all day
Rincon 3 are amazing 12 hour shift and my feet feel great.
Lani Mauricio Verified Buyer
November 22, 2021
Hoka has done it again! (Staff Review)
I loved the first two versions of the Rincon, so I had a lot of expectations with the update and I can happily say that this shoe has met all of them! It has the same springy feel, but with the added rubber on the outsole I'm sure it will last another 100 miles or so. The tongue is a bit short and can cut into the ankle, but usually it's not an issue. The colors are super eye catching and vibrant for energized runs. Super excited to put more miles on the Rincon 3s.