Light And Plush For Everyday Miles
It's time to welcome the HOKA Clifton 9 to the party. The award-winning daily trainer from HOKA has returned with more cushion and less weight than the last for an unforgettable underfoot experience. The midsole stack height has been increased by 3 mm with a responsive new foam that's soft and provides a smooth. The artfully designed upper has removed the overlays and hotmelts and added a plusher heel, reflective heel panel, and a streamlined tongue. This new and improved upper is breathable, lightweight, and made with an engineered mesh upper for a lighter-than-air experience.
Features & Benefits:
Compression-molded EVA foam midsole
Breathable engineered knit upper
Single-side gusseted tongue
Early-stage Meta-Rocker assists with heel-to-toe transitions
Durabrasion rubber outsole increases longevity
Inherently stable geometry
Made with recycled content mesh and recycled polyester laces
Vegan
Recognized by the American Podiatric Medical Association (APMA) to benefit foot health
Category: Neutral
Offset: 5 mm
Weight: 7.3 oz
Why You'll Love It:
The updated upper is super breathable and hugs your foot, giving you a lightweight stride as you run
Compression-molded EVA foam is used throughout the midsole and is designed to be lighter and softer than before
The Durabrasion rubber outsole layout has been rethought to help maximize the longevity of the shoe
Customer Reviews
Anonymous Verified Buyer
October 25, 2023
Love these shoes!
I've run about 30 miles in these shoes so far as my daily trainers and I love them. They fit well without feeling too heavy. Although, they are not as speedy and responsive as the Rincons, but I think they feel a little sturdier for the bulk of my slower and longer training days.
Anonymous Verified Buyer
October 18, 2023
Great show!
Love these Hokas. They are so comfortable and have basically eliminated the toe pain I was having. This is my second pair. I will say that I wish they lasted a little longer. I had to replace my first pair after 4 months.
Anonymous Verified Buyer
September 11, 2023
my daughter loves these
My daughter is on her feet all day at work and loves these sneakers. We highly recommend.
Anonymous Verified Buyer
September 09, 2023
Marathon Sports makes it easy
5 Stars - & Hoka Clifton 9's are as well. The comfort is off the charts. I use for everyday walking. They are light & cushy & work extremely well for my heavy heel strike.
Stephanie Noble Verified Buyer
July 19, 2023
Best Shoes Ever
I was fitted by someone on site & im so excited to say my shoes have been increibdle!
Margaret Smith Verified Buyer
June 19, 2023
HOKA woman's Clifton 9
I love the shoes. They are comfortable from the first time putting on. Make my feet and legs feel better.
Anonymous Verified Buyer
June 16, 2023
Hoka Clinton 9
Excellent. Good fit and great cushioning. Cushioning does wear before bottom sole.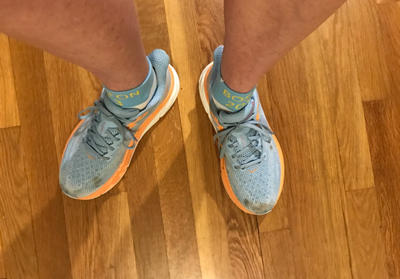 Anonymous Verified Buyer
June 02, 2023
Great shoes!
I just switched from ASICS and I love these!
Julie Borrelli Verified Buyer
April 23, 2023
Perfect
Excellent experience with hoka would purchase again and again
Anonymous Verified Buyer
April 06, 2023
Hurts my feet
Weirdly enough I got these in pink and blue and I love the pink but the blue gives me blisters. Maybe a manufacturing issue?