Product Description:
The HOKA Bondi 8: an ultra-cushioned game changer. One of the hardest-working shoes in the HOKA lineup, the Bondi takes a bold step forward this season. The midsole has been reworked this time around with softer, lighter foams and a brand-new extended heel geometry. Taking on a billowed effect, the rear crash pad affords an incredibly soft and balanced ride from heel strike to forefoot transaction.
Features and Benefits:
Engineered mesh construction
Recycled content lining mesh
Ortholite® hybrid sockliner
Lightweight, resilient foam
Zonal rubber placement for weight savings
The American Podiatric Medical Association (APMA) Seal of Acceptance
Drop: 4mm
Weight: 10.8 oz
Customer Reviews
Anonymous Verified Buyer
October 21, 2023
HOKA Men's Bondi 8 Extra Wide (4E)
Fantastic..Had a severe foot injury in 2010 which curtailed my 25 mile a week running. I only do long walks now and happy to report that this Hoka Bondi 8 is the only footwear without discomfort.
Joseph Agnew Verified Buyer
October 04, 2023
Great shoes
I have a wide foot and this is the first shoe that has actually fit my foot well.
Anonymous Verified Buyer
October 03, 2023
Hoka Mens' Bondi 8
Great shoes. Very cushioned. Helps with my big toe arthritis
Anonymous Verified Buyer
September 17, 2023
HOKA Men's Bondi 8
I've got big, wide feet and suffered from Morton's Neuroma. My HOKA shoes allow me to walk a lot longer without pain than other shoes I've tried. Plus they allow my feet to breathe and not get hot. 5 Star!
Anonymous Verified Buyer
August 28, 2023
Happy walking
Great. I can feel the difference when I wear HOKA
Ken Mount Verified Buyer
August 08, 2023
Best sneakers ever
I have R.A. and pain in my feet. I need 4 E width shoes. These are the most comfortable my feet have been in years. Hopefully, I will be buying another pair very soon. Wish there were more options in 4 E. Love love these sneakers.
Anonymous Verified Buyer
August 02, 2023
Marathon Sports Bondi Extra Wide
Awesome The directions were easy to follow and delivery was prompt.
Bill Heuer Verified Buyer
August 02, 2023
Great feel/fit. But squeak.
Feels great. Squeak a lot. Hope to resolve.
Anonymous Verified Buyer
July 24, 2023
Awesome Cushioning and Wiggle Room
Great shoe for cushioned walking on cobblestones and rocky surfaces. Extra wide width allows your toes the room to play the piano if you want. The only drawback of the Bondi 8 is that it is a street shoe, not a trail shoe. Therefore, when hiking on scree, you don't have the grip that you get with a shoe with an aggressive tread. If you're looking for cushioning and an amazing amount of toe room (width 4E hear's lookin at you!), look no further.
Anonymous Verified Buyer
July 05, 2023
It's the orthopedic shoe of the 21st century.
Really decreases pain in feet, legs and back. It's also good that they have a wide size.
Stan Selkow Verified Buyer
June 20, 2023
HOKA Men's Bondi 8
A couple of years ago I bought 2 pairs of HOKA Men's Bondi 7. They were recommended by my podiatrist (I have real bad feet, width 4E). I loved them, and they worked real well. One pair wore out, and I just replaced it with Bondi 8, the newer version. I expect to like it just as much.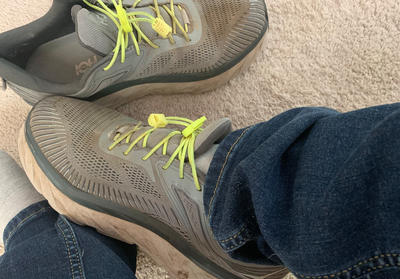 Hank Baker Verified Buyer
June 05, 2023
Great Shoes
The most comfortable shoes I've ever owned, been wearing Hoka for over two years, no other kind since my first pair, I recommend them to everyone!! Everyone that I've told and they tried them, now, it's the only shoe they wear!!!!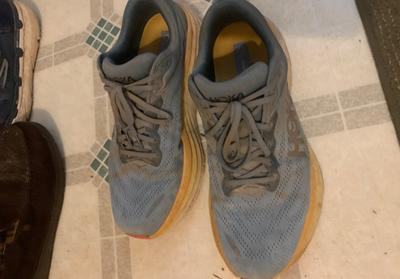 Susan Moore Verified Buyer
April 28, 2023
Anonymous Verified Buyer
March 28, 2023
Happiness
Purchased by telephone my 6th pair of jokes. The third pair from marathon like their service and assistance by the staff
Anonymous Verified Buyer
March 20, 2023
HOKA Men's Bondi
Great look, great comfort!
Anonymous Verified Buyer
February 19, 2023
Multiple Hoka's Owned
Great fit for wide feet and they are the most comfortable shoes. For someone with foot issues i.e., plantar fasciitis, Morton's neuroma, toe fusion, etc., these are the best shoes. I have tried every possible shoe and Hoka's are the best.
Christopher Bozarth Verified Buyer
February 13, 2023
Great shoes!
So far these have been great. Finally a pair of HoKa's in a 4E. Might even buy another pair to put away for when these need to be replaced!
Amy Gossett Verified Buyer
January 13, 2023
Bondi 8's
Good. The 8's are an improvement from the 7's. They feel a bit more cushioned.
Allison Verified Buyer
November 15, 2022
Like Walking on Clouds
These are absolutely the most comfortable shoes I have even worn. The cushioning is outstanding. There was a break in period where my foot needed to get used to the shoe but after that time I now cant live without them. I have bad plantar fasciitis and these have really helped especially on days when it starts to flair up.
Ireneo SSERUBOMBWE Verified Buyer
October 23, 2022
Hoka Bondi 8
They very good for running long distance and walking it may be 2 to 3 times but you break into the shoe But they great I run faster logger with no knee or calf issues
Happy Feet Finally!
Excellent,Excellent and Excellent!!! Just bought my first, but not last pair of Bond 8 from Shrewsbury Ma Marathon. What amazing twin Sisters there…they take the time and effort to assist you in getting the correct shoe. We've been buying shoes in this location for about 5 years and all the staff are excellent. Over the years, I've gone from New Balance to Brooks Dayds to now the Hoka Bodi 8 and this could be the last shoe I ever buy.