Support
Neutral
Stability
Motion Control
Cushion
Light
Moderate
High
Maximum
Product Description:
Explode off your stride with these energetic running sneakers. The efficient DNA AMP midsole provides spring and pop while the GuideRails provide the medial support for when it is needed. The GuideRails support keeps you moving comfortably by keeping the excess movement in check. The sleek Fit Knit upper has a close-to-foot fit that is light, soft and breathable.  
Features & Benefits:
A wraparound integrated collar provides a sock-like fit.
Reformulated DNA AMP midsole for a lighter feel.
Fit Knit provides softness and breathability.
Integrated streamlined GuideRails support system for smoother transitions.
Arrow-pointed outsole pattern for speedier transitions.
Drop: 8 mm
Weight: 10.8 oz
Customer Reviews
Anonymous Verified Buyer
June 26, 2022
Good shoes
Good shoes overall, not perfect. Pros: -Energetic bounce, seems to increase pace without exerting more energy -Provide enough support for my knees Cons: -The back heel feel kind of hard, pressing against the back of my heel bone. Fortunately, it's more noticeable before running and not noticeable while actually running. -The shoes seem to cramp my arches after running a while. I am flat-footed so I attribute this to the structure of the shoes which seem to grip the foot/arch to provide support, probably not an issue for those without flat feet. Conclusion: I almost returned these due to the cons listed above. However, I find these to be pretty nice for shorter runs. The energetic bounce is quite a nice experience. But I don't think I could handle these for longer runs, the cramping becoming more of an issue as a run progresses.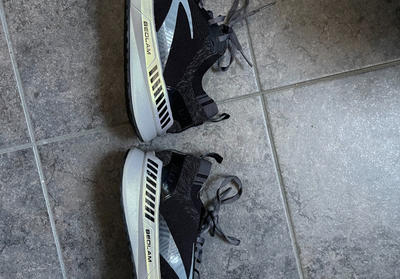 Jennifer Justice Verified Buyer
March 22, 2022
Fantastic customer service
My son is going through a major growth spurt and I ordered his Bedlam's ttoo small. Marathon was wonderful with the even exchange. When we got the shoes in the correct size, my son absolutely loves them. The Bedlam shoes are sharp looking, have fantastic support and stability. They hold up well with his football cardio training. My son's only complaint with these shoes is that he wishes there was a little more padding in the soles.