Product Description:
The Ultimate All-In-One Visibility Vest! Featuring 360° LED illumination and reflectivity in a frame weighing under 3oz., this vest is a must-have for the darkest days of winter.
Features and Benefits:
Minimalist featherlight

 

Xinglet Optic Beam™ vest design weighs under 3oz.

Ultrabright bioluminescent jellyfish inspired 360° LED illumination technology

Entirely reflective Xinglet™ front and back visibility booster zones, and adjustable side reflective boosters

Fully size adjustable, moisture resistant design

Hook and loop closure for easy on/off

USB rechargeable (charging cable included), no batteries to replace!

Solid and 2 flashing modes with easy push button on/off

Runs for 6 hours on flash mode, 3 hours on solid

SKU: 457-11
Customer Reviews
Anonymous Verified Buyer
February 23, 2023
Lightweight and very bright
I'm very pleased with this product. It's easy to use and charge, and I was actually stopped by a motorist who complimented me on my visibility. Just noting that these vests don't last forever. I replace mine on a yearly basis because it's such a bummer to have one suddenly refuse to charge or work just before a run!
Anonymous Verified Buyer
January 12, 2023
Peace of Mind
I'd been considering buying one of these for years, but always wondered if it was too elaborate. Now that I'm running more at night I took the leap and totally worth it. And the price was more economical than I anticipated. Now can be more at ease both on my own and bring visibility to any group.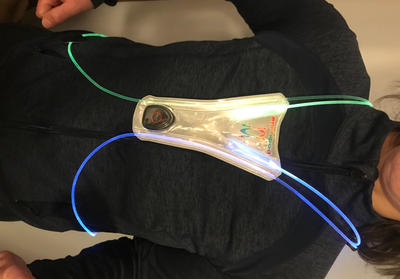 JOHN HART Verified Buyer
September 20, 2022
"hi vis" only in the green
Difficult, b/c there were other great colors from mfr., one of which, 'rainbow'looked great. In person, both this brand and "Nathan" multicolor (and to some extent, all the other colors) are NOT bright at all, with drop outs in the led 'hose' and no intensity. A car's headlights would easily wash this out if it didn't have reflective addy'l materia!