Product Description:
The all-new Torin 6 is ready to match whatever you're willing to put in.  One of Altra's best-selling running shoes is equipped with Altra EGO™ MAX midsole foam to help absorb even more impact over time. The new Torin is also sporting an improved plush tongue construction and an updated molded heel collar that can go the distance. Finished off with Altra's classic Standard FootShape™ fit, this go-to road shoe is made for any road, any run, any time. 
Features & Benefits:
Features Altra's signature FootShape comfort that gives your feet more space to sit naturally and is designed to address the biological difference in men's and women's feet
Upper: Jacquard Knit Mesh
Midsole: Altra EGO™ MAX
Outsole: FootPod
Cushion: High
Stack height: 28 mm
Weight:

8.3 oz/ 234 g

SKU: AL0A7R78-220

Customer Reviews
Anonymous Verified Buyer
July 17, 2023
Altra are great
Very comfortable, overall great running shoe.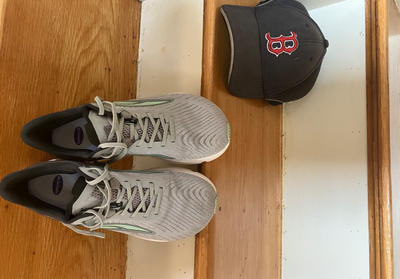 Sonny Card Verified Buyer
March 19, 2023
Bursitis relief for minimalist shoe preference
I have bursitis in my heel that required a boot for a couple of recovery weeks. Returning to running after the pain subsided, I learned that my feet had grown and my previous shoes were too small triggering my bursitis. Seeking relief and new shoes I tried a couple and landed on the Altra Torin 6. I stuck with this pair because they are light weight, don't trigger my bursitis, plus they don't look orthopedic. I've only worn them in about 6-8 short runs and 3 mid-long runs. Overall, I think they are good for building back my endurance- they don't trigger pain during my runs but I still have increasing pain through out the day after a run - especially if I continue to wear them through out the day. I will likely change my shoe for any distance or race training because after about 2-3 miles when my feet are warm and the shoe builds up heat- I can feel the shape of the sole (a center split divot) edges press uncomfortably into my feet when ever I strike the grown. It's early in the wear process, however, the sole pressure is not preferable.